Feature:
Per Øhlckers has a long career in the electronics industry. Now he has embarked on a new exciting project.
Per Øhlckers retired last year, but that does not mean he has stopped working for that reason. The USN professor now works part-time at the university as a hired consultant. The rest of the time goes to the start-up company nanoCaps. 
- I have always had a passion for what I do. When I started working, we called it silicon sensor technology, now we call it micro- and nanotechnology, which is a much broader concept, says Per.
- Kjært barn har mange navn as we say here in Norway, he smiles.
Per Øhlckers (71) has a long career in the electronics industry and is a key figure in the technology environment here in Horten. The 71-year-old, who lives in Asker with his GP wife Milda and 2 teenage children, is still active as a lecturer at the university and founder of the newly started company nanoCaps as. Because even though Per is over retirement age, there is nothing to indicate that he will stop working any time soon.
Per works at USN as professor emeritus within the Faculty of Technology, Science and Maritime Studies at the Department of Microsystems. He has worked there since 2003 and has a wealth of knowledge and expertise in micro- and nanotechnology.
- Here at USN is the place I have been the longest actually. I retired last year, but still lead an EU project as a part-time consultant for USN, says Per.
He has a master's degree in engineering from NTNU (then called the Norwegian University of Science and Technology) in physical electronics, and there is no doubt Per has a love for the field. He has followed it all his life.
Per's career began at Horten's company ame (Aksjeselskapet Mikro-Elektronikk) in 1975, where he worked with silicon sensor technology. He stayed here for 5 years, where he worked on several exciting projects. Among other things, he was involved in developing the silicon pressure sensor, which is still produced in upgraded versions at Skoppum at Memscap. This tells the 71-year-old became one of his most successful development projects.
- It's actually a fun story. One Friday morning I was testing the prototypes when everything suddenly seemed as it should after the last adjustments. Then I contacted director Johs Aanderaa in Aanderaa Instruments in Bergen and said that I could be with him on Monday. They had already followed what we were doing and were interested in using the pressure sensors as high-precision electronic barometers in their weather stations. So I got on the plane Monday morning and went to Bergen. I showed him the prototypes and a little freely, I asked when he could place the first order. Then I was told that he could not order anything without testing it first. But two days later, an order was received for the first order of what became an industrial adventure, Per says with satisfaction.
But after five years in Horten, Per was forced to make a choice. His wife inherited land in Asker and thus the family moved. And it is clear that the house by Nesøybroa means a lot to the engineer. The house by the fjord, with jetty by the sea has become his base and security in life.
- Then we built house there - it's my paradise on earth.
In the house by the fjord, Per lives with his wife Milda and two teenage children. From a previous marriage, he has three grown children and six grandchildren.
Love for research
For Per, research has meant a lot to his career. When he moved to Asker, he started working as a researcher in biomedical engineering at the Central Institute for Industrial Research (SI, later part of SINTEF). Several exciting projects, but the time in biomedical engineering was not quite what he envisioned. The longing for silicon sensor technology became too great and after 5 years he switched to semiconductor technology, which also operated with silicon sensor technology.
- I ended up there for 15 years and got to work on many exciting projects. I became head of department and we made sensors for CERN, among other things. It was very fun to be a part of, says Per.
- Then I was sort of tricked into management, so in the end of my time there I was assistant research director with a hundred employees. I found that was not entirely for me. I'm probably more of a researcher than a leader, that's where I have my heart. Being a project manager I think is great, inform Per.
Thus, the journey went back to Horten and SensoNor. For a couple of years, Per worked as a research coordinator, where he worked mostly with EU projects.
- It was quite hard work, often with two flights a week down in Europe and many other trips around the world. I eventually got tired of traveling so I started as development director for DAVIS AS in Drammen.
Per points to the ceiling.
- I was going to point to the ceiling for the projector, but there was nothing for now, large flat screens are used, he smiles.
At DAVIES he made among other things, projector to have in the ceiling.
- It was very exciting, but DAVIS was closed down in the end. We had several world-leading products, but it still did not go well because sales and marketing were too weak in a demanding world market, he concludes.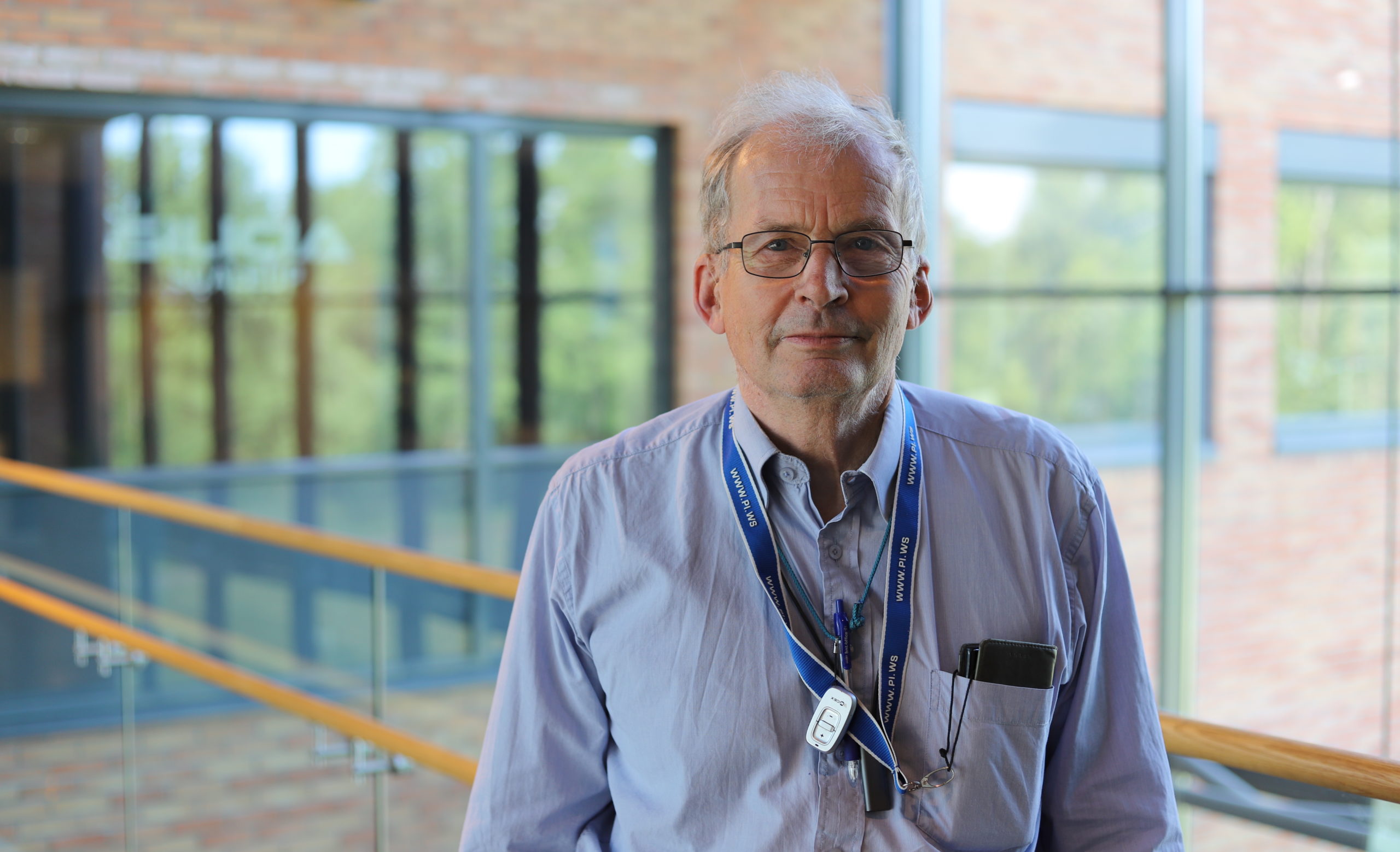 Thrives: USN is the place Per has worked the longest. Photo: Helene Vego / Electronic Coast.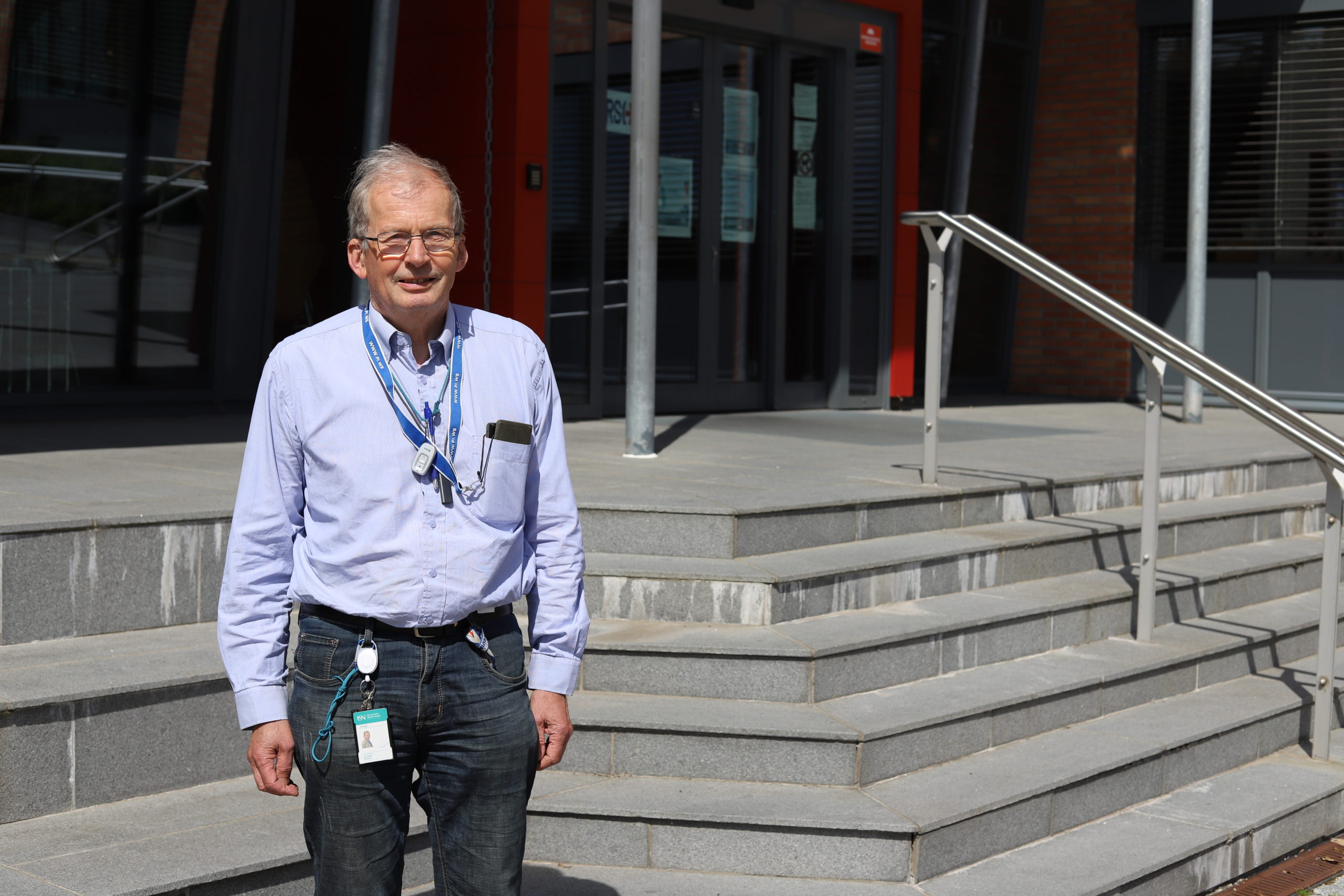 Forskningsparken: Per has worked as a professor at USN since 2003. He recently retired and became professor emeritus. Photo Helene Vego/ Electronic Coast.
Life of an entrepreneur
This was a golden opportunity for Per to try entrepreneurial life. He started his own start-up company, Diamond Nanomachines, on the basis of a patent he had taken out with some colleagues from the time in SI.
- We tried for a few years, but eventually realized that the gas sensors we made were not good enough in relation to the competition. The company was instead continued as his personal consulting company.
But this experience has not stopped Per from trying again as an entrepreneur. This year, he co-founded nanoCaps with Professor Xuyuan Chen. The plan is to produce  supercapacitors for the world market. The company is part of the incubator Silicia and a member company in Electronic Coast.
- Supercapacitor is a component that stores electrical energy that can be discharged for use in electronics or provide electrical energy. The world market is worth around NOK 4 billion and is growing strongly as part of the green shift, Per explains. 
- By using our patented technology with interconnected, cross-linked carbon nanotubes as electrode material in these supercapacitors, we get much better performance than today's commercial products. We now have a performance that is about three times better than existing competing products on the market, informs Per.
Part of the production will happen in Horten, and the rest of the assembly of the product will happen in China.
- The business-critical part of the technology that is protected in the patents will take place here in Horten. Then we have to make compilation in China. It is standard production technique that does not give us any advantage in doing it ourselves. Such standard components are used everywhere in electronics, so in order to be competitive in the market, we have to make many devices to reduce costs. The strategic partner in China is the company GMCC, founded and led by a former USN doctoral student. GMCC has become an international leading manufacturer of supercapacitors and is also a co-owner of nanoCaps, says Per.
It's clear this is something that engages Per a lot. And there is no lack with ambitions. Within five years, the entrepreneurs are investing in good sales.
- We aim to reach a turnover of NOK 100 million within 3-5 years and grow further. 
Since Per and his partner both live in Asker, one might think it would pay to develop the company there. But precisely because of the strong professional environment and the industrial cluster in Horten, there are too many advantages to moving, says Per.
- We focus on developing the company here. The network here is so strong that there are crucial benefits to being part of such a cluster.
Community first
Since 1995, Per has taken part in the technology network here in Horten. Over the years, it has grown stronger, and when he returned in 2003, he noticed how important it was for the companies, and not least how important this collaboration between the companies was to preserve the expertise gathered in Horten.
- There was a great willingness to contribute. It became such a win-win mindset, by helping and contributing you got more in return, Per recalls.
In 2006, EC was appointed Norwegian Center of Expertise and received support from Innovation Norway for a ten-year project called the Norwegian Center of Expertise in Micro-and Nanotechnology (NCE MNT). For 10 years, the cluster received NOK 10 million a year in support. Per helped write the application and actively participated in what became the heyday of EC.
- It gave us a completely different freedom to develop the cluster. We could pay the secretariat and have more employees working full time with this. It was a huge success, and contributed greatly to a heyday for the electronics industry in the Horten area. It was incredibly fun, says Per.
Per claims that EC is now facing an important time, where the phasing out of oil can offer a huge opportunity for the cluster. Mainland industry, such as electronics and micro- and nanotechnology will be even more relevant to invest in and build up, he believes.
- Here it becomes important for EC especially to be on the cutting edge and become more visible. There is a lot of exciting things happening in Horten, so in the future it will be important to promote the environments more. I think they deserve that, he concludes.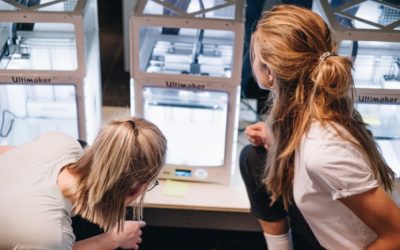 Har din bedrift lyst til å inspirere neste generasjon til en karriere innen teknologi og IKT? USN er med i nettverket Jenter og teknologi, som arrangerer jenter og teknologi-dagene til høsten. De er på utkikk etter teknologibedrifter som ønsker å åpne dørene for besøk...