Company Presentation: The Latest News from Aiwell
Aiwell is headed for an exciting time ahead. With new products on the agenda, the entrepreneurs are looking forward to spring. The first launch is just around the corner.
- We love developing new products. We are constantly working to develop the products we have, and to be a leading star in this field, says founder Asle Ingmar Johnsen.
Together with his partner Tore Johnsen, he is passionate about making good products aimed at snow and ice issues.
Aiwell and Aiwell Water are currently working on several exciting projects. Among other things, they work closely with Asker. Here, the project is about solving the surface water problem, so that you can avoid surface water damage. Several areas in Asker had floods a few years ago, where the pipes could not get rid of the rainwater fast enough. This is an issue several municipalities face, so this is an important project.
- The goal here is to use full power. That is, remove all air in the pipes so that the water velocity increases. Then the same pipes can take away more water, says Asle.
In the longer term, the goal is to separate wastewater and surface water, so that only wastewater is fed to the treatment plants. Wastewater is surplus water from industrial processes and sewage-contaminated water from industry and homes. The wastewater is transported through pipes in the ground.
- By separating these two, it is possible to carry the surface water, which is basically clean water, directly to the recipient and thereby avoid burdening the treatment plants unnecessarily, says Asle.
In other words, this is also a sustainable solution. A topic that is very relevant at the moment and important to Aiwell Water.  
From idea to career
Aiwell makes products and systems that prevent clogged drains and water leaks from roofs. It's mainly municipalities that are the customers. It all started with an idea from founder Asle.
- I worked in Vestfold County Municipality, where several new buildings were built including Re upper secondary school and Sande upper secondary school. Then the winter came and it started leaking from the roof. It was fixed and on Re it went fine, but on Sande it leaked again the next winter. Then I began to think about whether there was a solution to this problem. So I talked to Tønsberg Yrkesskole and we made a prototype where we removed the water pressure, says Asle.
The reason why the leaks came in the winter is due to the ice formation that takes place around the roof hatches.
- The roofs were tight during all the precipitation that came through spring, summer and autumn. It was only during the snowmelt that the leaks came. This happens due to ice formation around the roof hatches. We got a patent for the Aiwell star that solves this problem, and Aiwell was established 30 years ago. Since then, we have sold tens of thousands of the Aiwell star, Asle informs.
That was the start of an exciting career for Asle, who not long after chose to focus fully on the idea. Something that turned out to be a success. Aiwell is now an established company in Stokke with 6 employees. The company has several international patents and there are three main areas in particular that they have chosen to focus on; Snow melting plant, roof hatch and underfloor heating.
These are products made for the Nordic climate. It often clogs with leaves, children's needles and other dirt around the roof hatch. It can then be a good idea to have a system that tells you when it is crowded. The Aiwell roof hatch system will help with this. The goal is to avoid roof leaks. In addition, the system works against ice around drains, which often occur in winter. We are now working on a wireless solution, which will make it easier to maintain this.
Another area Aiwell has focused on is street heating and heating mats. Among other things, the artificial turf pitch at the Norges Idrettshøyskole is controlled by Aiwell Control 3000, which is a product tailored for this purpose and thus provides a significant energy saving. What many of Aiwell's products have in common is that they are smart. Several have sensors and can be connected to a PC. This makes them more user-friendly and easier to follow.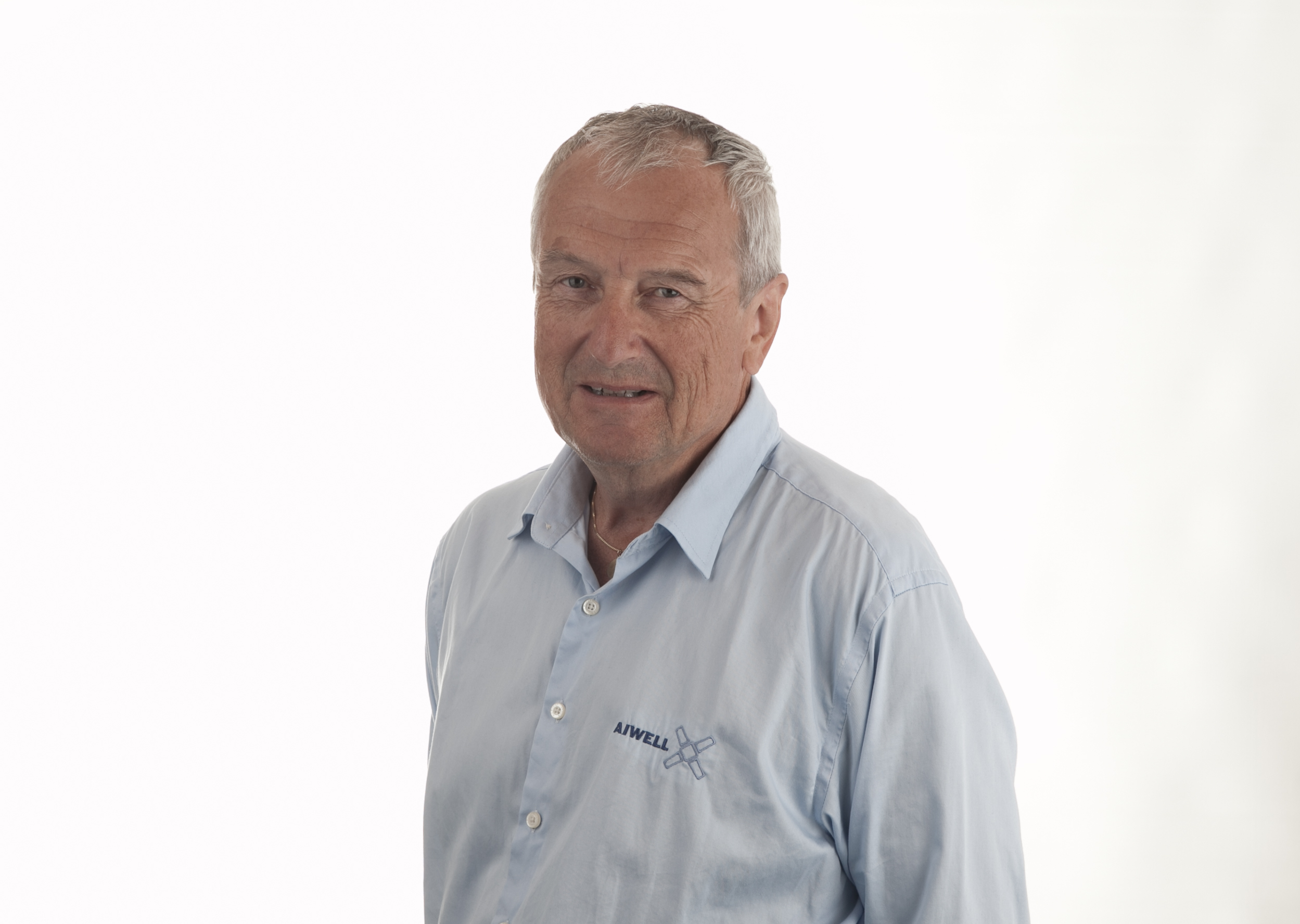 Founder: Asle Ingmar Johnsen has for a number of years made products aimed at snow and ice problems. Photo: Private.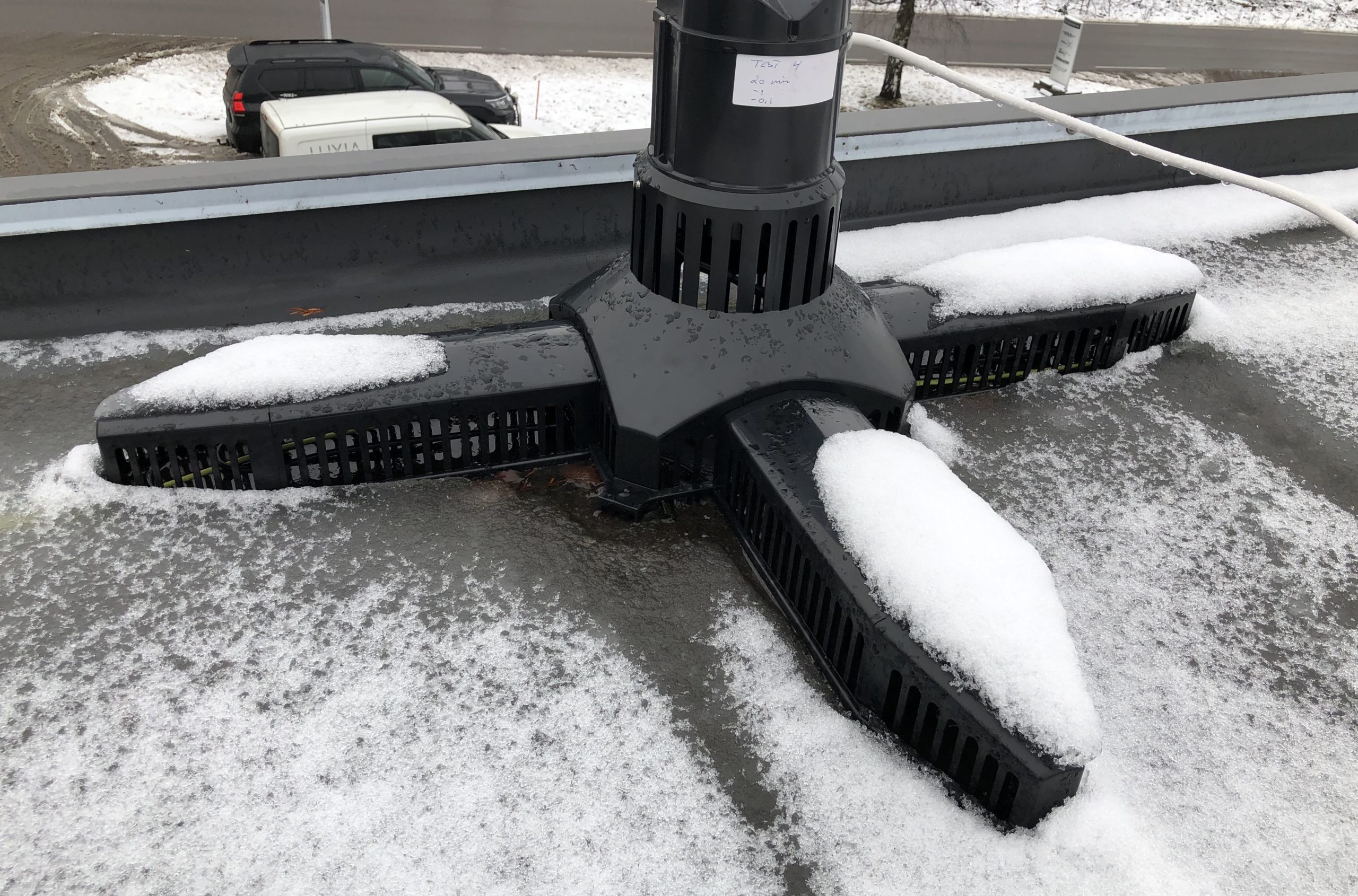 The star: It all started with the Aiwell star, which even 30 years later is a popular product. Photo: Private.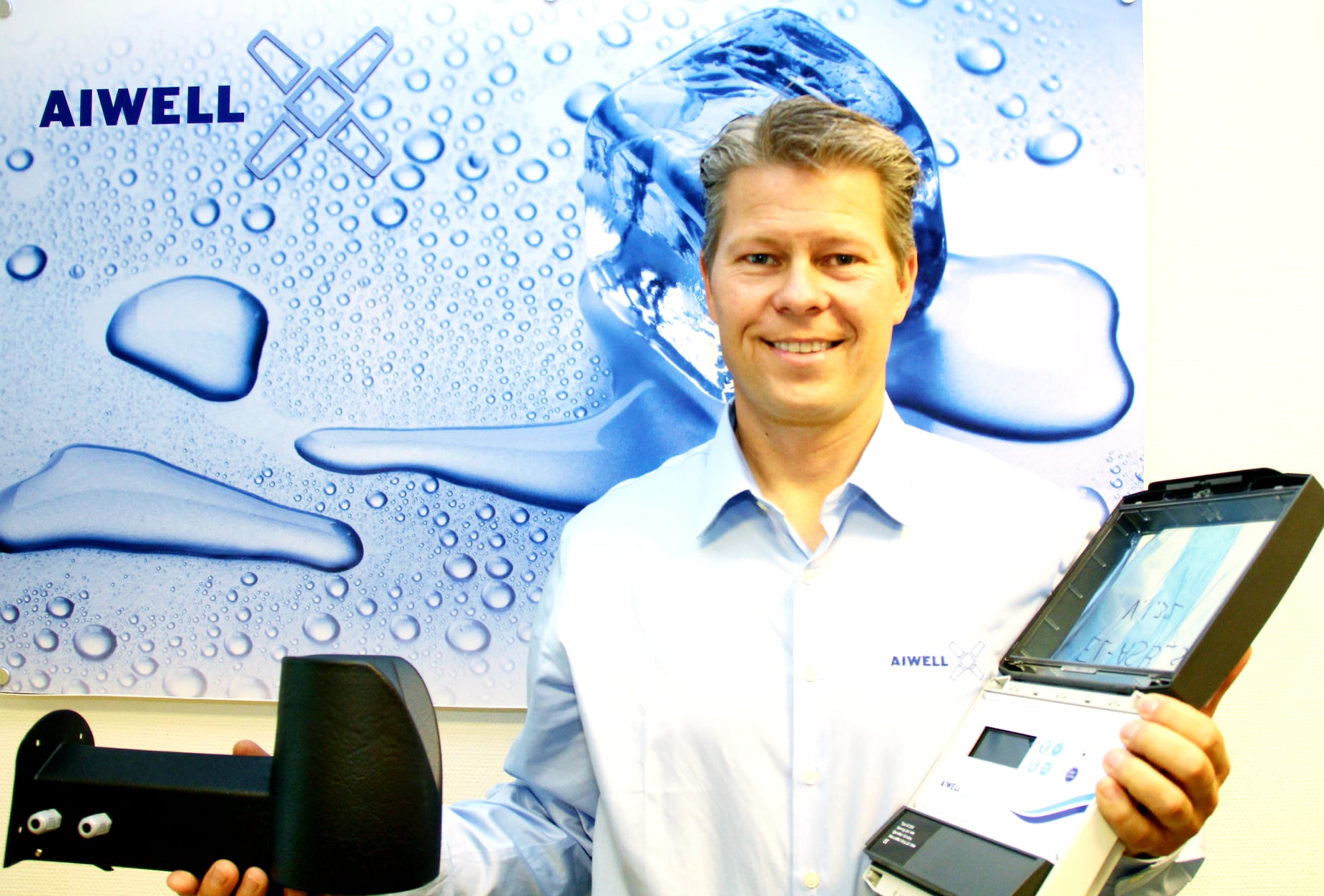 The Manager: Tore Johnsen, here with control system for underheating. Photo: Private.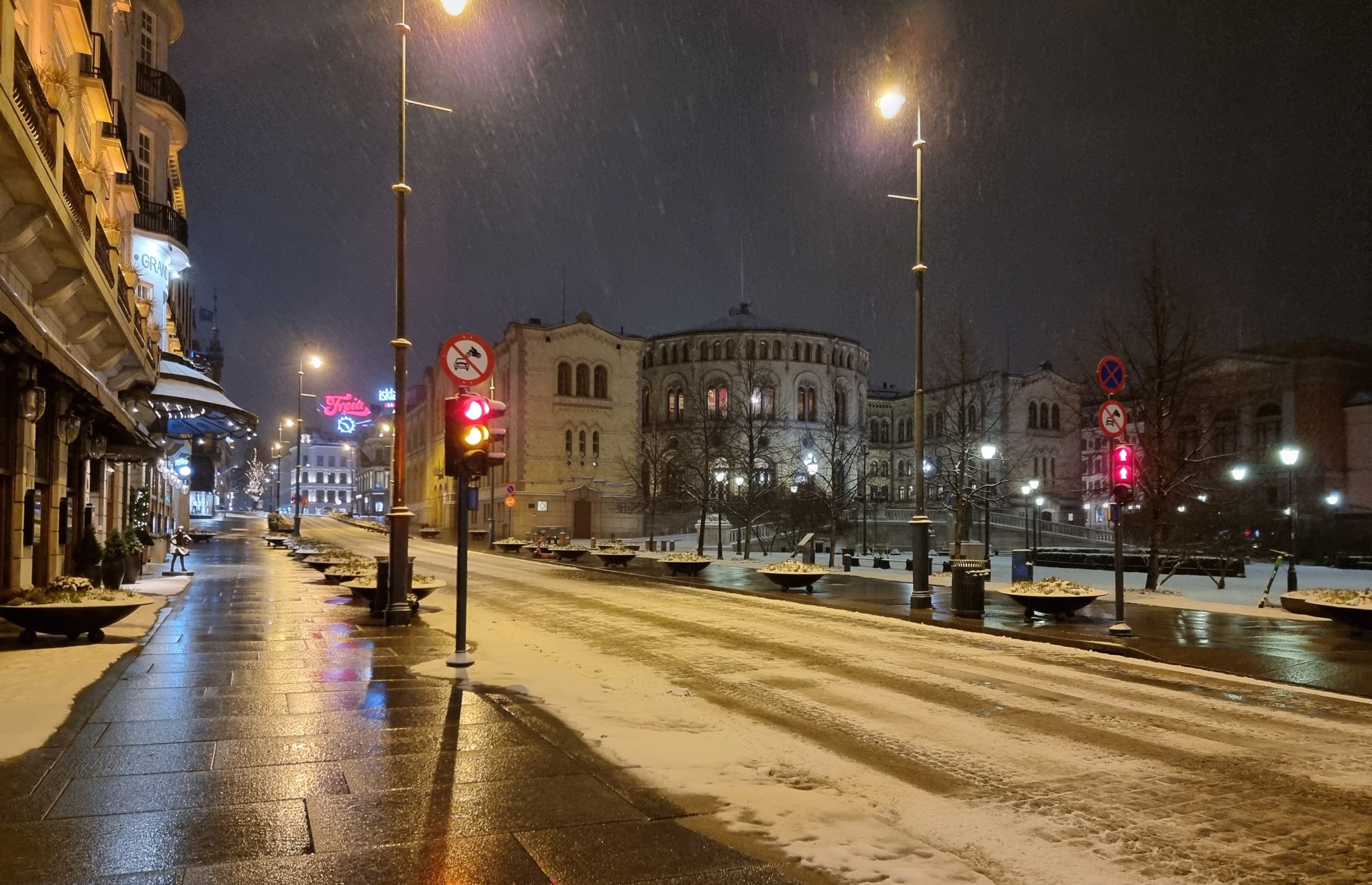 Street heating: Aiwell controls large parts of the street heating in central Oslo. Here is a picture of Karl Johansgate. Photo: Private.
Aiwell Water
In 2016, Aiwell chose to create a new company, Aiwell Water. They were going to start an exciting but risky project and thought it was okay to secure the company. Since then it has been a lot to do for Aiwell Water. They are now working on a new system, which will notify the user before the pipes fill up and it overflows. They are currently in the process of testing this together with Asker municipality. This is a project that will run over several years, where one of their employees is working on this project as their Ph.D. study. It is an extensive process from sketch to implementation, and until the product is on the market. 
- The advantage of this product is that it can transport more water through smaller pipe dimensions and it can warn early if faults should occur. In addition, it is robust, says Asle.
Not only that. These products are also less expensive compared to other solutions on the market. Aiwell Water uses the pipes that are already in the ground, and with new technology have designed so that the water flows easier away. Because of this the municipality doesn't have to dig up old pipes and install new ones, which would be a big cost.
A tough year
There is no doubt that these are products and a topic Aiwell is very interested in. The goal is to provide a cheaper and modern solution in ice and water problems for their customers. In addition, Aiwell and Aiwell Water work closely with students at the University of Southeast Norway. They have been important key players in the work of product development, together with Innovation Norway and other supporters.
Like the rest of us, Aiwell was also affected by the corona pandemic and had to lay off employees and postpone agreements. But even though 2020 has been tough, Asle and Tore have not been lazy. This spring, more launches await. They hope the first one will be available after Easter.
- There have been some delays with the delivery of material, but we are betting that most things will be resolved in a short time, Tore says.
To learn more about Aiwell's products visit the website: https://www.aiwell.no and https://www.aiwellwater.no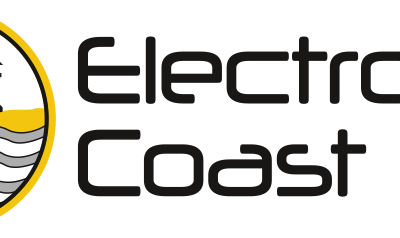 Det er gjennomført valg av nytt styre i Electronic Coast. Valget ble gjennomført digitalt, ved at hver medlemsbedrift kunne stemme i Survey Monkey. Til sammen 20 bedrifter har avgitt stemme. Det nye styret består av: Lisbeth Cale, Kongsberg Defence and Aerospace AS...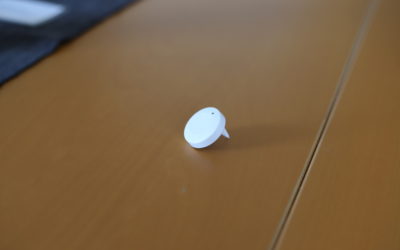 You no longer have to worry about moisture in your motorhome. Avara has been responsible for the development, while Mectro is responsible for the production of the system, which, among other things, will report when there is too much moisture in the motorhome or caravan. We Norwegians love ...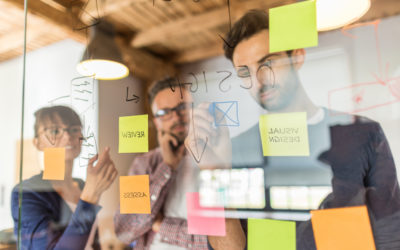 Do you represent a public or private company with sustainability challenges and a need for innovation? The University of Southeast Norway (USN) will start a pilot project this autumn and is looking for public and private companies to take part in this.